---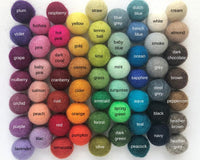 DETAILS OF THE WHOLESALE ORDER: 150 count, all autumn colors (no dark colors), already 30% off within this listing. Shipping is set to exact weight and dimensions for 150. Details of the product below:
Sets of hand-felted, solid wool small pet toys - size small. Great for kittens and other similarly small pets. Each of the balls is about 2.5 cm / just under an inch in diameter, though they may vary a small amount because they are hand felted.
I also carry cat nip oil and a larger size wool cat toy in my shop well suited for adult cats and kittens alike. Check out the shop section "Wool Toys". 
DISCLAIMER - THESE ARE NOT FOR CHILDREN. These are made and sold for kittens and other like-sized animals. They are too large to pose a choking hazard to these small animals but may pose a choking hazard to babies and toddlers and bigger cats.