---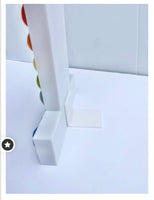 Price is per stand.
DO NOT PURCHASE THESE FOR THE 13.5" OR 18.5" LETTERS. THEY ARE NOT PRACTICAL OR DESIGNED FOR THEIR USE.
These are free when sold within the listing (because it's built into the price), this listing here is mainly for customers who either forgot to order the stands in their original order, or decided to redecorate (or moved) and want to use them as shelf sitters after previously hanging them. 
I suggest two stands per letter when there is a wide base, such as D or B.... or two "legs" to the letter, such as A or H. Not required, but more stable :)
Made from white PLA plastic and measures about 2" squared. Two sided tape will be on the side intended to attach to the letter/shape. Instructions will come with!